Lt. Gov. Shan Tsutsui Welcomes Summer TIP Participants
Posted on Jun 5, 2013 in Main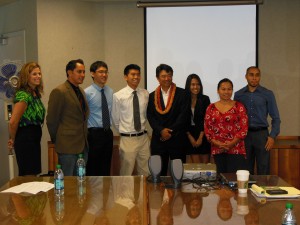 A group of Hawaii college students are embarking on an exciting summer full of "hands-on" learning and real-life work experience through TIP (Transformation Internship Program).   Lieutenant Governor Shan Tsutsui welcomed the students on their first day.
The students will learn strategic planning, human capital management, organizational change management, quantitative and qualitative management, and fiscal planning.
The innovative internship program provides Hawaii undergraduate and graduate students the opportunity to work alongside innovators within state government and gain hands-on experience in a wide range of areas.
In December 2012, the state Office of Information Management Technology (OIMT), led by  Sonny Bhagowalia, first announced the internship program in partnership with Department of Human Resources Development (DHRD) and Enterprise Honolulu, which provided featured speakers to enhance the program.
In addition to OIMT and DHRD, participating state agencies included the Departments of Agriculture, Public Safety and Taxation.
Through the program, students will have the opportunity to:
earn academic credit while gaining "real-world" experiences;
participate  in meaningful work assignments relevant to academic area of study;
apply business, communications, public administration, information technology,
and engineering classroom concepts to work assignments;
be exposed to public service careers; and
develop a network of professional contacts for future opportunities.